Planning on travelling to Thailand? I am sure it is no secret that Bangkok is an absolute heaven for wanderlusters who love cheap eats, good shopping and intriguing culture. However, if you are looking for something different, then you have come to the right place! Three-hour drive from Bangkok lies a city filled with wineries, farms, and beautiful floral fields. Wait what? That exists in Thailand? Yes it does, and you can find it all in
Khao Yai.
At the beginning to 2018, I kick-started the year with a trip to Thailand. Instead of the usual route, we added a road trip to Khao Yai to the itinerary before settling in Bangkok for the remaining days.
Here are 10 reasons to visit this hidden gem the next time you head to Thailand.
#1 Sunflower dream came true!
The sunflower season in Khao Yai starts in the cooler season, which is November and ends around January or February, before they are eventually harvested for their seed and oil. My visit to Khao Yai in early February coincided nicely with the blooming of sunflowers in their Pak Chong district. We were really lucky to have caught the last blooms! I always love sunflowers because of its symbolism of warmth and positivity. Therefore, coming to the sunflower field is my ultimate goal of visiting Khao Yai. So it is like a dream come true for me!
Look at all the sunflowers smiling at us!
Can you believe it? We spent the whole morning here just admiring these blooms. If you enjoy basking in the sunshine and walking among the vibrant flowers under a sunny blue sky, you will definitely love it here.
Tips: Be here early! We were the first in the field and it felt as if the entire sunflower field belongs to us.
#2 Feed sheep, alpaca and donkeys at this Italian escape
If you can't go to Italy, let Khao Yai bring Italy to you in this Italian themed square. Thanks to Primo Piazza, you no longer have to fly halfway across the world to get a taste of Italy.
Tips: Instagram addicts, get your camera ready, because every corner here is insta-worthy!
They even have their very own farm and you can feed sheep, alpaca and donkeys here too! They are incredibly friendly and adorable, and especially so if you lure them close with a handful of grass.
#3 Be teleported to mini Italy at Palio Village
Yet another beautiful Italian-inspired place, there are more photography spots here! Add some colours to your Instagram feed with vibrant colour buildings as background, with a market square reminiscent of those in Europe.
If you have time, there are some souvenir shops and fashion boutiques for you to shop.
Tips: Admission is free! Yayyy
#4 Living the farm life at Farm Chok Chai
Farm Chok Chai is another famous tourist attraction in Khao Yai. We joined the Farm Tour which covers several stations that will allow you to see the different functions of this very big farm. The farm has over 3,000 head of exclusively bred dairy cattle, which is a cross between Holstein-Friesian and a native Thai species. They also have their very own brand of dairy products called Umm!.. Milk.
Personally think the farm is especially fun and educational for kids! You get to milk a cow, try their ice cream, hop on their tram truck and they will bring you around. There are also cowboy show and animal showcases at the end of the tour. Very windy and chilling afternoon!
Tips: I bought yoghurt and fresh milk before leaving. Cheap and delicious!
#5 Indulge in a wine-tasting session at PB Valley Khao Yai Winery
They say your trip to Khao Yai will not be complete without a visit to PB Valley Winery. I never know Thailand produce its own wine, but apparently PB Valley in Khao Yai is one of the very first large scale and high professional wineries in the tropical country and was well established since 1989.
Heard a lot of good reviews regarding their winery tour, but we did not join the tour because we were there late. We chose to dine at the Great Hornbill Grill Restaurant to try their wine. It was a fantastic dinner, with the restaurant overlooking the beautiful vineyard and mountain. Although we missed the tour, but we did not regret for this visit.
Tips: Pre-book your tour online if you intend to visit!
#6 Secret Art Garden Discovered
We wanted to look for a place for lunch, and who knew we would discover this hidden gem.
Secret Art Garden is a café and art house perfect for people who love arts, crafts and gardens. The café itself is located in the middle of a tranquil, undisturbed garden surrounded by big trees and colourful flowers. We took some time to wander around the garden after our lunch. As we walk further into the garden, there are many different themed zones showcasing different sculptures and art pieces. You will love how quiet, calm and comfortable the place is, as you breathe in the fresh air and marvel at the lovely greenery.
I wish I could stay here longer!
Tips: Allocate more time this place because there are so much to discover, it will surprise you!
#7 Experience fine dining in a castle at Midwinter Green
I have never been fine dining before. This is a night to remember because I totally felt like a princess dining in a castle!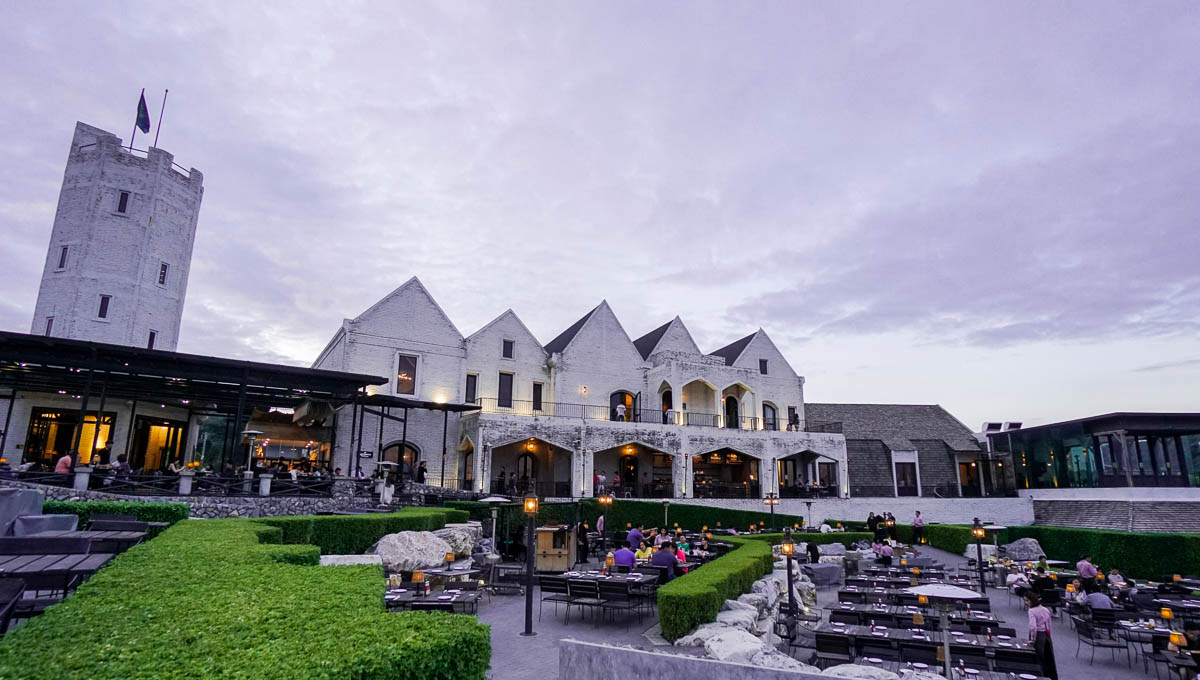 Look at that white buildings resembling German castles! They are inspired by Shakespeare's play. The outdoor dining area is very spacious, overlooking the magnificent view of mountains behind the green fields.
Not only the outer building looks elegant and mysterious, the interior design is impressive as well. Chandeliers hanging from high ceilings, pretty dining tables, bar with wide selection of wine. I had to pinch myself to remind me that I was not anywhere in Europe, but in Thailand!
We asked for outdoor seats to enjoy the cool evening breeze, live music while dining with a view of the castle. We ordered a pizza to share because we have already dined somewhere before this. Food was a little pricier than most of the other places but worth the price considering the food and setting.
Tips: If you come early, you might get to witness beautiful sunset!
#8 Have High Tea At Thames Valley
Inspired by the Thames River in London, Thames Valley is a unique hotel in Khao Yai with a touch of English countryside elements. We didn't stay here but we came here for The Castle Restaurant & Tearoom, which opens for their hotel guests as well as public.
Spacious room with high ceiling, stone walls, large glass windows and beautiful European-style furniture - I fell in love with the place immediately. Taking pictures is almost effortless because of the wonderful decoration and background, not to mention the generous exposure of natural lights!
Tips: Try their strawberry mille-feuille! Every bite tastes like heaven!
#9
Café Hopping at The Birder's Lodge
The Birder's Lodge is one of the few hipster cafes in Khao Yai. After spending a long day under the sun, we decided to chill at The Birder's Lodge. Just want to show off the pretty pictures. #sorrynotsorry
#10 Special add on… Rak Na Khao Yai
Last but not least, just want to highlight the place that we stayed because it is so picturesque as well! Highly recommended!
I really love how peaceful and beautiful Khao Yai is :)
Next time when you visit Thailand, why not explore this secret town of Khao Yai just three hours north of Bangkok? Travel with ease with
Traveloka Malaysia
and start planning a truly extraordinary trip now!